SMOKE & FIRE SIMULATION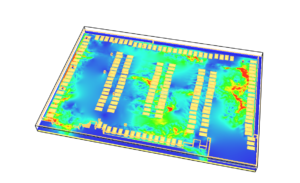 It's very important to design the facilities with proper safety of occupants and compliance with the Govt. regulations. Our "Smoke & Fire Simulation" offering helps the architects & engineers to simulate fire and smoke-propagation to design management systems for buildings, subways and other facilities.
Simulation helps in evaluating the smoke extraction / ventilation system. Evacuation-simulation helps to simulate movement of people during evacuation situation. Various fire scenarios can be considered for preparing the fire fighting and evacuation guidelines based on Fire & Smoke simulation.
The objective is to evaluate and understand the air flow profile of the concerned space. The study also highlights possible design improvements by controlling air flow patterns, identification of dead air pockets, evaluation of age of air particle in the basements, throw of jet fans and air velocities in the spatial domain. To evaluate the performance of smoke ventilation system using CFD analysis, and to study the movement of smoke, temperature and visibility profile considering various scenarios of fire.
Deliverables
• Smoke concentration data
• Evaluation of fire & smoke-propagation path
• Temperature & velocity profile
• Visibility study